Let's Just Enjoy Saying This While We Can... "THE UNDEFEATED NEW YORK KNICKS!" (Matt):


Knicks at Sixers.
The Knicks toppled a shaky Miami team in their opener, behind Mr. "Oh, I Don't Fit In, Do I?" Jamal Crawford and the D'Antoni offense firing in high gear. Tonight they face a considerably more daunting task. The Sixers opened flat, with no one playing terrific an a few players playing terribly. Now they're at home, and will probably be looking to make a statement. Throw in the fact that the Knicks aren't nearly as tough down low and I'd expect an Elton Brand diorama of pain. No, really, he makes dioramas of pain. Sells them for nickels on the corner. Pack of ten for for a dollar. He's not good with math.
The Knicks are going to have to attack ... um... everywhere. The best option may be to try and use the bench to run in spurts. The problem is the Sixers are considerably loaded in key positions. Meanwhile, the Sixers need to wake up. They no longer have the opportunity to sing Kumbaya and find themselves. They have an identity, they need to express it, refine it, and get in gear. Expect Thad Young.
Gametime: 7PM EST League Pass


Get It? The Fire is a Metaphor For Their Unexpectedly Competitive Spirit! (Rob):
Warriors at Raptors
The Dubs shocked the world by well, not getting punked by the Hornets. Now they'll have their shot at...something. But that something is real and substantial, despite the fact that Nellie refuses to bring anyone under the age of 28 along for the ride. So ice those knees, Jax, and get ready for another 40 minute night of playing point guard. Times are hard in the bay.
Meanwhile, our Canadian friends are fresh off their victory against the upstart Sixers. Jermaine O'Neal just paged me, and he'd like me to tell you all to quote "go screw yourselves for doubting me." I don't even know what that means, but he sounded pissed. What I do know is if the Raps play the same way they played against Philly tonight, Cap'n Jax and co. will need to dig deep in that bag full of tricks if they want to even make this a cute little game. O'Neal was fantastic and Bosh was even better, and when you combine that duo with Calderon you've got a bonafide force on your hands.
Gametime: 7PM EST League Pass
2.0 Will Score, Score, Score, and Kevin Martin Can Only Respond With "Please Sir, May I Have Another?" (Rob):
Kings at Heat
If the Heat showed anything in their game against the Knicks, it's that this team has a blatant disregard for defense. Luckily for them, they may have met their match in the even more defensively inept Kings.
Martin v. Wade could potentially go down as one of those epic 1 on 1 scoring match-ups, especially because I don't think they can really guard each other. Martin pump faking Wade out of his kicks while he steps in and buries one, Wade posting up Martin and burying a turnaround from midrange...both only able to match each other in terms of pure point production and pure, unadulterated awesome. You hear me guys? I want 40 out of both of you slackers!
Meanwhile, B-Easy will do his best to not be unexpectedly pedestrian. The Kings frontcourt will do their best to help. They have a tendency of doing that.
Gametime: 7:30PM EST League Pass
What Better Way to Teach a Rookie a Lesson Than to Put Him in a Rondo-Hold And Have KG Bark At Him (Rob):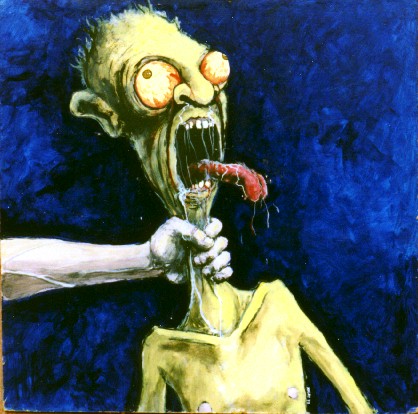 Bulls at Celtics
Derrick Rose, you're so awesome! You looked so great against the Bucks while you were making Ridnour look like...Ridnour! You know what? You were so great that we're going to give you a special treat. You get to match up against one of the most annoying, pestering defensive point guards in the league, the best defense in recent NBA history, and probably come face to face with a man that would surely eat you alive if it meant winning another title.
Baston was Baston in Game 1/82, but it took them a half to get things rolling. I'd love to say "Well, they don't have that luxury against the Bulls!" But yeah, they kinda do. The Bulls don't have the defense or the LeBron that the Cavs have, meaning that the C's should have plenty of wiggle room. But, here's hoping for another entertaining one on national TV, mostly to entertain poor souls who can't reach their cable guy because he's a complete tool shed meaning they don't even get the fricking League Pass games. So keep this one close, eh KG?
Gametime: 8PM EST ESPN
There Will Be Wrath, And It's Name Will Be Big Baby Jesus (Matt/Rob):
Magic at Grizzlies
Marc Gasol + Darko Milicic + Darrell Arthur < Dwight Howard. But what this game really comes down to is the Magic actually hitting the shots they usually make (y'know, the ones they didn't make against the Hawks) and the Grizz being the Grizz. Memphis netted moral victory #1 by keeping pace with the Rockets, but a win over the Magic could cause the minds of every Grizz fan in the area to simultaneously explode. The wings are going to have to be otherworldly (not just good, but good enough to completely counteract Rashard and Hedo) if the Magic are to drop their second straight. Mike Conley is an essential piece to the puzzle, providing access to the running game that Memphis so desperately hopes to tap into and also playing the role of the willing distributor who can set up his teammates in the half-court. It's time to be what you were born to be, Mike. And of course, a shout out to Marc and Darrell, who posted incredible lines in their first NBA game, and against the Rox no less!
Mayo is a big city kid in a small town. They said he couldn't do it. He knew he had to.
Gametime: 8PM EST League Pass



No One Can Stop Us Now, Even Though We Wish They Would
(Matt):
Denver at LA Clippers
Wow. Talk about two teams with worlds of talent and no idea what to do with it. The Clippers got drug outside, curb checked, thrown through a wall and then tattooed by the Lakers. Offense? Fine. The Lakers are damn good and you had a bad night. But the porous defense for the Clippers is way worse than I thought. I keep thinking that Dunleavy's hard-ass style will make an impact but all it seems to do is hurt the confidence of young guys. On the other hand, the Nuggets have weapons but have failing leadership, inconsistency, and oh yeah, can't defend. The Nuggets should win this one based on talent, but if the Clippers get a bigger game from Thornton and Kaman, the Clippers could hang. Of course, we always say the Clippers could hang and then they don't. Thornton absolutely must start showing he can do something else besides score or he's going to be a Ricky Davis clone. Speaking of, guess who'll be ruining any rhythm the Clippers create tomorrow? Finally, Mike Taylor needs to get more burn to let Davis get some rest or you're going to increase the risk of further running down Davis.
In other news, Dunleavy and Karl will get drunk together the next day.
Gametime: 10:30PM EST League Pass
GAME OF THE SEASON! A MATCH-UP MADE IN HEAVEN: DUNCAN VS. PRYZBILLA! (Rob):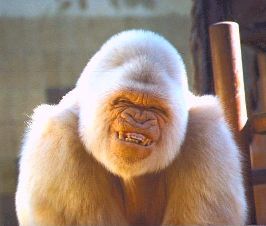 Spurs at Blazers
Tim Duncan against Greg Oden's backup? Hot damn!
Those rascally Spurs, up to their old antics again. It's the same game with a few new faces, and those faces just happen to be Red Rocket Bonner and the newly adopted son, Roger Mason. Yet these Ginobili-less senior citizens haven't missed a beat and still pushed the Suns to the limit. I've come to accept it: as long as there is breath in Tim Duncan's body this will be a dangerous team. Let's just move on.
But the real question is if the Blazers can rebound from their embarassment against the Lakers. Someone (Nate?) needs to remind this team that they didn't have The Big Chill last year, and yet they were still competitive and interesting. Right now all they've got is a boatfull of errant jumpers, a lifetime supply of leg and foot related injuries, a curse, and a
SEASON ON THE BRINK
. So Blazers, pretend you're not a buncha yellowbellies for just one second. Don't blow the big one on national TV like you did on Tuesday. It's up to you, Vanilla Gorilla Pryzbilla, to lead this team. Except without actually leading them, becuase Roy's going to do that. But it's up to you to hold down the fort and battle with Timmy Dooscan. All of Portland depends on it. Please, for all of our sakes: WIN THIS ONE FOR ODENNNNN!
Gametime: 10:30PM EST ESPN
Loading image
Click anywhere to cancel