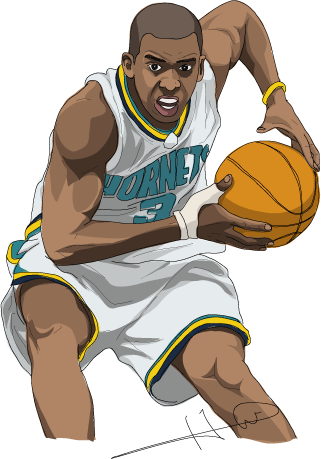 (
Thanks to
Hoops NBA From New York (Japan)
for the image.
)
19-21-3-3 for +17 on the night. Sweet Mother of God. I had told Corndogg before the season began that I thought the best pure point guards were as follows: Steve Nash, Tony Parker, Deron Williams, Kirk Hinrich, Chris Paul (with apologies to AI and Arenas for being scoring PGs). My argument was that Paul was too young to put in the top 3. I was wrong. Chris Paul is the second best point guard in the NBA, and might be the best by the end of the year. It's not based off this one game, it's that he's already in that rare position of being the focal point of the team, scoring points, and still making his teammates better. This Hornets team has weapons, but they're all only able to fire because of the work Paul is doing.
21 assists. Are you kidding me? The man passes the rock faster than Jigga. He's got more dish than Crate and Barrel. He's dropping dimes like the US Mint! And other superlatives and nonsensical analogies!
Also, the
dude bowls
like a madman apparently.